Not only do we offer luxury christmas hampers for family, friends and colleagues but we also have 11 other popular types of luxury hamper including: Salmon Hampers, Wine Hampers, Meat Hampers. Here at Hampers 4 Less you are guaranteed to find a suitable present for that special someone.


We do offer fantastic Christmas Hampers, but it doesn't neccessarily have to be christmas for you to order one of our Luxury Hampers! It could just be a gift, or possibly an indulgence for you and your family. Check our hamper selection on the left hand side of the screen to check out our luxury Christmas Hampers, Wine Hampers and many more...

Our aim is to create a friendly and efficient service, to provide a great range of hampers and to guarantee your satisfaction with our outstanding value for luxury hampers, not only for the festive period.

For offline quotes or orders please call 01235 833 732 and for any other queries please contact us, read our resources or email us at ed@hampers4less.co.uk

New Service - Click here for DIY Hampers to create your own!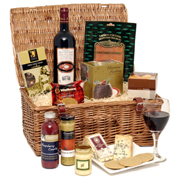 Click here if you would like to link with us.